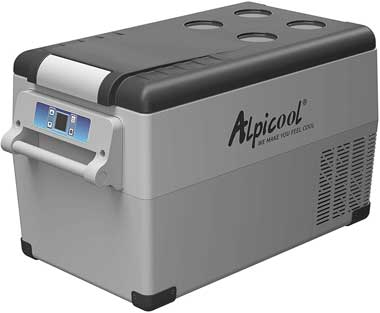 Do you want a compact refrigerator/freezer that you can take on long road trips or use daily in your truck or RV? The Alpicool portable Fridge Freezer offers a great solution, plus it costs significantly less than its competitors.
As with many other mobile electric coolers, the Alpicool gives you lots of versatility. For example, it can use both AC and DC power.
Therefore, you can plug it into your vehicle or use it at home. Furthermore, it can even run on solar!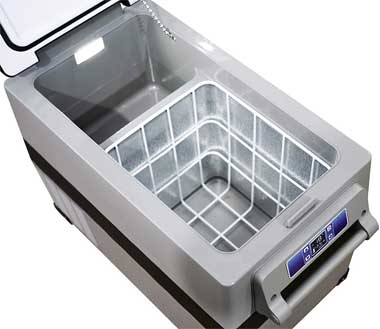 As a result, you can use this cooler virtually anywhere (ie. camping, fishing, tailgater, picnics, at home, the office, trucking and more). For that reason alone, you can really get your money's worth out of this car cooler.
Second, you can adjust the cooling temperature to act as either a refrigerator or a freezer. In other words, you can use it for different purposes on different occasions.
Plus, this model comes in 3 different sizes, so you can choose the size that fits your vehicle and needs best . For example, the smallest version (the 35L) can fit 36 cans of soda.
Not to mention, the unit doesn't require ice to chill the interior contents. Therefore, you don't have to allow extra space for ice packs, etc..
Alpicool VS Dometic Fridge Freezer:
Below, the video review covers the similarities and differences between these two brands. Surprisingly, the Alpicool may have some features that you'll like even better than the more expensive models.
This budget-priced cooler demonstrates great cooling efficiency too, which might be the most important feature of all. (By the way, the reviewer is looking at the freezer-only model, which explains the price difference.)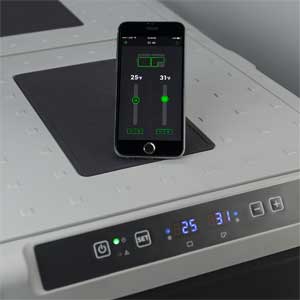 For comparison, a 35 liter Dometic fridge-freezer has a price about double of the 35L Alpicool.
However, this higher-end model does contain some advanced features.
For example, you can control the temperature remotely from your phone.
It also has an energy-saving design and heavy-duty construction to handle more extreme activity.
Specs for the Alpicool Portable Fridge Freezer:
Dimensions: 27.2″ Long x 15″ Tall x 13.6″ wide
Weight: 28 lbs
Size/Capacity: 35, 45 or 55 Liter Sizes
Lowest Cooling Temp: -20°C​ (-4°F)
Voltage: 12 Volts
Wattage: 45 Watts
Comes with Internal Basket
Built-in LED Light
Package Includes Power Cord & AC Power Adapter
Model #: CF35, CF45 and CF55
Manufacturer: Alpicool

You can get this portable fridge/freezer in 3 different sizes, depending on your needs. They each come with identical features, just different storage space.
4 Handy Features for Frequent Cooler Users:
If you plan on using your portable cooler frequently, the Alpicool fridge freezer has some handy features that you'll appreciate.
1. Battery Protection for Your Vehicle:
First of all, it includes a 3 stage car battery protection system. Therefore, you don't have to worry about the unit running down your car battery unexpectedly.
2. Low Maintenance Cooler:
Second, the compressor has a vibration-resistant design and can operate while sitting at an angle (up to 45°). Consequently, the device can last longer in more extreme environments without having problems. Who wants a high-maintenance cooler, right?
3. Eco-Friendly Compressor:
Third, the high efficiency compressor also has adjustable modes. For instance, you can set it to either ECO or HH modes, depending on your cooling needs.
4. LED Light:
Fourth, the lid features a built-in LED light. I know, this component might not be a game changer for many people, but it sure comes in handy at night!
Alpicool VS Costway Travel Fridge/Freezer: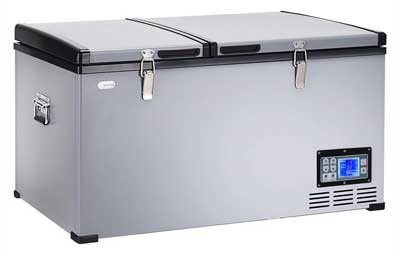 Similar to Dometic, Costway electric coolers will cost you more than the Alpicool. However, they offer an extra-large version that has 2 separate lids.
Therefore, you can open the fridge and freezer sides separately. If you live in a van or an RV full-time, you might prefer this larger version.
Having said that, both models have a significant difference in wattage. The 80 Liter Costway uses 85 watts vs Alpicool's 45 watts. You probably expected this variance in power consumption, due to the size difference.