Do you want a heavy-duty all terrain cooler that has lots of cool built-in features? The Igloo Trailmate Marine Cooler acts like an outdoor kitchen, plus it can keep ice cold for up to 4 days…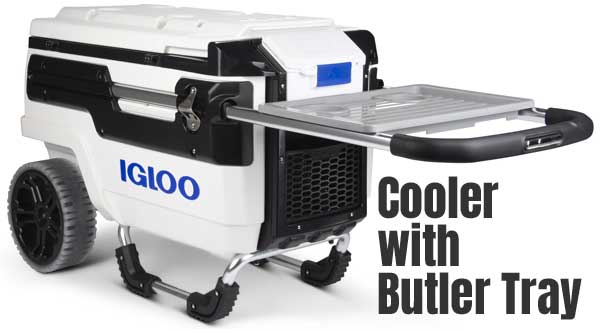 Trailmate Coolers are Easier to Carry for 3 Reasons:
Large, well-insulated coolers can work well for storing drinks, but a pain in the butt to carry around. The Igloo Trailmate Marine Cooler, on the other hand, has several features that make it much easier to transport.
1. First of all, it has oversized, all-terrain wheels that can tackle virtually rocky trails, beach sand and more. The large wheels also provide 10-inch ground clearance making it easy to go off road.
2. Second, Trailmate Coolers have carrying handles that extend horizontally. Therefore, you don't have to strain your back lifting the cooler off of the ground.
3. Third, this model includes tie downs, so you can attach more gear on top of the rolling cooler. In other words, the Trailmate can help you carry more stuff. =)
Check out the video below to how easy it is to move this all-terrain cooler around.
Note: By the way, Igloo makes a similar model, the Igloo Trailmate Journey shown in the video.

The 2 advantages that the Marine has over the Journey are (1) UV protection and (2) non-marking anti skid wheels. (Obviously, best for boating and fishing.) However, the Journey comes in 4 different colors.
The Igloo Trailmate Helps You Serve Drinks & Stay Organized:
Speaking of carrying more stuff, the 70 qt Marine Trailmate has several built-in accessories that turn your cooler into an outdoor kitchen. Talk about convenient!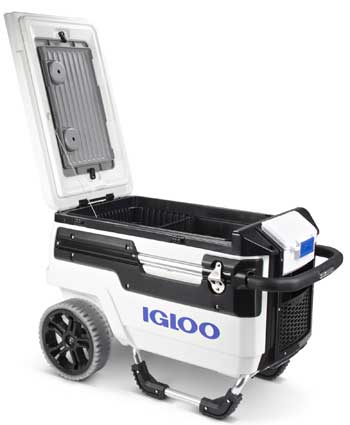 First off, it comes with a butler tray and cup holders. Use it as a small table to set snacks, drinks or other items while still being able to open the cooler lid. (The tray table conveniently stores under the cooler lid when not in use.)
The cooler lid has 4 additional cup holder spots, plus a mobile device stand. In other words, you can use this cooler as a portable fridge as well as a serving table.
Next, you get an additional dry storage compartment for things like phones, keys and sunglasses. Keep electronics safely dry while also easily accessible and easy to find. (By the way, you can also lock this compartment.)
There is an additional mesh pocket on the exterior, plus a suspended food basket on the inside. Consequently, the Marine Trailmate helps you stay organized too.
Note: Plus, you don't have to worry about forgetting bottle openers anymore. This wheeled cooler has 2 built-in openers located on the sides.
The Trailmate Marine Keeps Ice Cold for 4 Days:
Like many of Igloo's newer high-tech coolers, the Marine Trailmate features Utratherm insulation. So, you can go on longer fishing excursions without worrying about your cooler getting warm.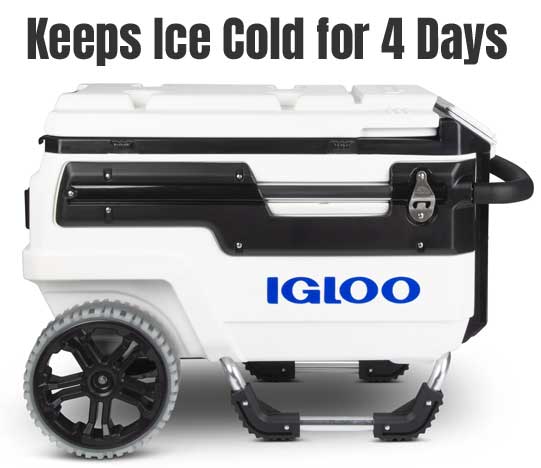 In fact, this heavy-duty insulation can keep ice cold for up to 4 days. Plus, the elevated design of this model helps to keep the cooler cold by lifting it off of hot surfaces.
Note: The cooler cleans easily with mild soap and water, due to its antimicrobial liner that helps to prevent stains. However, you can baking soda and water to effectively remove tougher stains if needed. (No need to use expensive or toxic cleaners.)
Specs for the Igloo Trailmate Marine Cooler:
Dimensions: 34.59″ Long x 19.7″ Wide x 23.61″ Tall
Interior: 23″ Long x 14″ Wide x 11.5″Tall
Weight: Approximately 35 lbs
Capacity: 70 Quarts (66 Liters)
Fits 112 12-ounce Cans
4-Day Ice Retention
Material: Ultratherm® Insulation
Antimicrobial Liner (stops stains & odors)
Color: White with Black Trim
Dry Storage Compartment
2 Built-in Bottle Openers
Includes Stand for Mobile Devices
Model #:00034231
Manufacturer: Igloo
Phone: 1-866-509-3503
For Sale: Where to Buy the Trailmate