Do you want a car cooler that doesn't require power, yet can keep food and drink cold for a week? The Igloo Mission Cooler can do just that because its walls contain Ultratherm Insulation.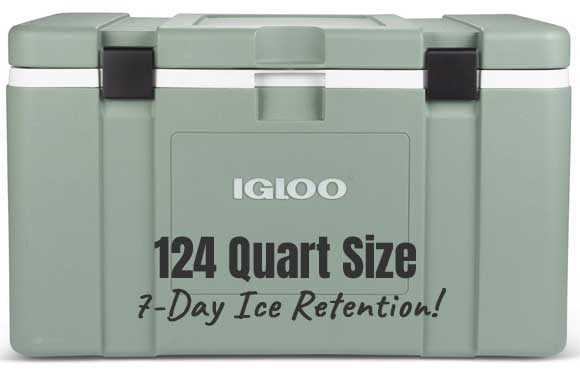 Therefore, if you have a week-long camping trip, you don't need to worry about plugging your cooler into your car. You also don't have to worry about draining your car's battery or placing your cooler next to a power source.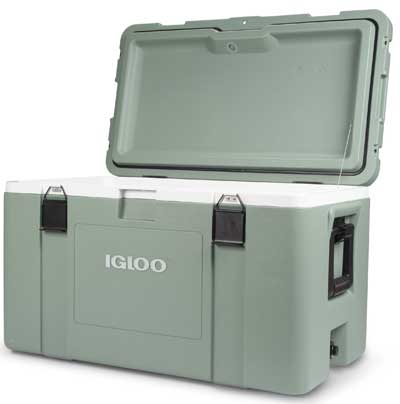 Furthermore, the Igloo doesn't make any noise, and you don't have to worry about any electronic parts malfunctioning.
Note: In other words, the Mission cooler gives you a lot more freedom. Not to mention, you can save several hundred dollars over a thermoelectric cooler of similar size.
Pros & Cons: The Igloo Mission VS Electric Car Coolers
Of course, a non-electric car cooler requires ice which takes up space and melts over time. As a result, you don't want to place items in the cooler that need to be kept dry.
Plus, you'll need to replenish ice each week. So, you may not be tethered to a power cord, but on longer trips, you may be tethered to a store that sells ice.
That said, if you don't plan on taking long trips, chilling food for longer than a week may not matter to you. And if you do travel for longer periods, you'll probably need to stock up on food at the store anyway. No big deal.
What Other Advantages Does the Igloo Cooler Have?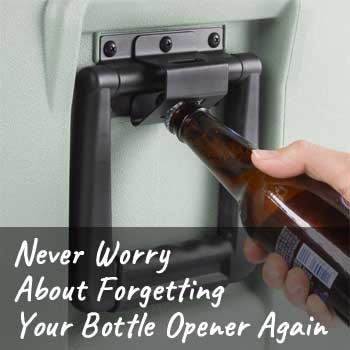 This Igloo cooler does come with a few handy built-in "accessories" too. For example, it has a fish ruler on the lid and bottle openers on the sides.
In addition, the specially-designed side handles also have tie-down brackets. And, you can lock the lid shut. Its ultra-durable, heavy-duty design will last a super long time with virtually no maintenance.
And as far a cleaning goes, simply wipe it down with a damp cloth to prevent stains and odors. Baking soda and water also work well on tougher stains, if needed.
Specs for the Hard-Sided Igloo Mission Cooler:
Dimensions: 35.4″ Long x 19.7″ Wide x 20.7″ Tall
Interior: 30.6: Long x 15.5″ Wide x 14.9″ Tall
Weight: 32 lbs
Capacity: 124 Quarts (117 Liters, 31 Gallons)
7-Day Ice Retention
Material: Ultratherm® Insulation
FDA-Approved Food Grade Liner
Lockable Lid
Model #: 00048496
Manufacturer: Igloo
Phone: 1-866-509-3503
For Sale: Where to Buy the Mission Cooler
Igloo Ultratherm Cooler VS Yeti: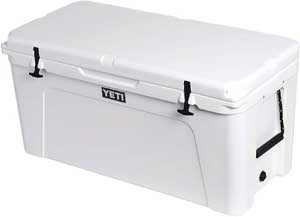 Compared to the Igloo Mission Cooler, the Yeti costs significantly more. Plus, to hold the same amount of food/drink, the Yeti cooler exterior dimensions are bigger. Therefore, the Yeti Tundra takes up more space in your vehicle.
The Yeti does feature extra-thick walls with commercial grade Permafrost insulation. However, it doesn't retain ice any longer than the Mission.
In Summary: There's no question that both brands make excellent hard-sided, well-insulating coolers. That said, if you want to save some money, the Mission gives you that option.
By the way, the Igloo Mission Cooler comes in smaller 50 Quart and 72 Quart versions as well.