Do you want a heavy-duty car cooler that you can mount on the exterior of your vehicle? The ARB All-Weather Fridge Freezer can handle extreme weather conditions and locks for security. Plus, this cooler has an ultra-rugged stainless steel exterior…

This Weatherproof Cooler Can Go Virtually Anywhere:
Weather you're camping, fishing, hunting or taking a trip off road, the ARB can handle it all. Not to mention, this tough fridge-freezer can last many years of demanding use.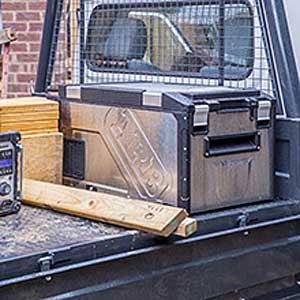 Note: And this explains why it makes the perfect car cooler on-site at construction jobs. Its long-lasting durability ensures that you get a good value for your money.
Of course, the exterior comes fully weatherproof – but so does the control panel. In addition, the manufacturer added strong ASA protective corner pieces on main body and lid.
The ARB Cooler Security System Provides Peace of Mind:
As I mentioned above, you can mount this robust cooler to the exterior of your vehicle. The package comes with tamperproof bolts that allow you to secure it permanently.
In addition, the lid also has tamperproof hinges. Therefore, you don't have to worry about someone breaking in through the top. (You can even attach a padlock if you want, though a lock is not included.)
Note: On top of that, The ARB Elements features a programmable electronic 4-digit pin lock. You can rest assured that your drinks will be there when you return from your excursion. =)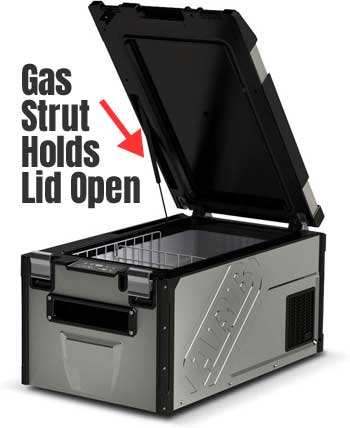 Lid Can Stay Open Without You Having to Hold It:
This portable fridge freezer comes with a very convenient feature: a lid that stays open without you having to hold it.
In other words, the gas strut will hold the lid in any elevated position as long as you like.
This unique addition comes in handy when you need to grab multiple items out of the cooler at once.
Not to mention, this upgraded hinge enables you to handle multiple tasks simultaneously.
The ARB Fridge Freezer is Energy Efficient:
By the way, the ARB Elements runs very efficiently. In other words, you don't have to worry so much about it being a power hog.
First of all, the fridge/freezer has a thicker insulation. Therefore, it keeps your food and drinks cooler with less energy.
Plus, the upgraded interior provides a uniform temperature throughout because it has a full-length cooling zone. In addition, it conveniently features dual-height compartments for various sized items.
The following video reviews the advantages of the ARB Elements' special features. Plus, you can see how the cooler functions work.
Note: You can see in the photo above that the fridge freezer slides out from the back of the truck. You can get a Fridge Slide here.

It fits the ARB 10810602 specifically. Plus, it makes it really easy to access the contents of your cooler without having to lift it.

By the way, ARB also sells a Tie Down Kit here if you need one.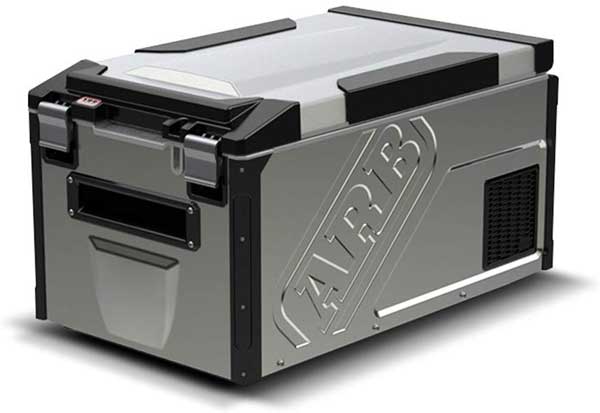 Specs for the ARB All-Weather Fridge Freezer (63Qt):
Dimensions: 32.3″ Long x 19.3″ Wide x 17.1″ Tall
Exterior Construction: 304 Grade Stainless Steel
Weight: 70 lbs
Size/Capacity: 63 Quarts
Cooling Capacity: -50°F​ to 0°F
Built in 12/24V DC & 100-240V AC
Includes 3 Stage Battery Protection
Comes with Reversible Internal Basket
Backlit LED Display with Dimmer
Model #: Elements 10810602
Manufacturer: ARB
Phone: (866) 293-9078