Dometic makes a high-tech portable fridge freezer that has dual zone compartments and wifi capabilities. The Dometic CFX 75DZW may cost more than standard car coolers, but is it worth it? We take a look…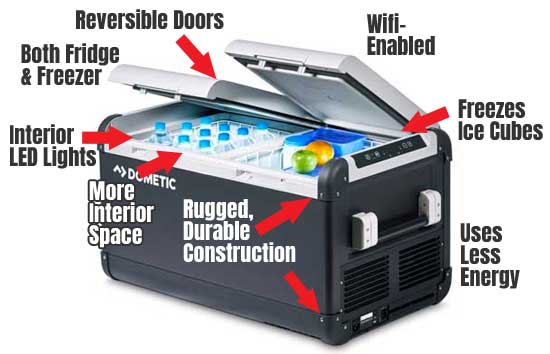 Are you a trucker, frequent boater or spend lots of time traveling in your RV? You will probably appreciate this Dometic cooler more, due to its more advanced capabilities.
1. No Ice Needed. Plus, the Dometic Can Make Ice
First of all, the freezer can make ice. Plus water freezes into cubes in just about 2.5-3 hours.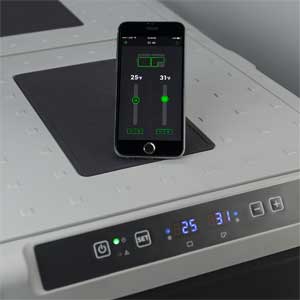 2. Control Cooler Temperature Remotely
Second, you can control the temperature on both the refrigerator and freezer sides remotely using your phone and Dometic's wifi app.
Some people may not care about this feature, that is, until you can't access your cooler for a long period of time and want to adjust the temp.
Of course, you can also see that the Dometic has temperature controls on the exterior of the unit as well.
3. Interior Cooler Lights
Third, both compartments have a convenient light that automatically turns on when you lift the cooler door. Whether you need to grab the ice cream at night or in a dimly-lit location, this feature comes in super handy.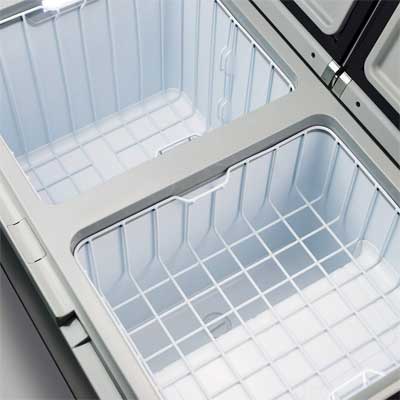 4. More Fridge/Freezer Space
Fourth, the Dometic CFX 75DZW powered cooler provides plenty of interior space because it is one of the larger models. (60% more storage capacity in the same exterior space as other models!)
Having said that, you can buy an even bigger cooler with 20 additional liters of space.
Check out the Dometic CFA 95DZW, which has a higher price but only costs about $100 more.
Note: Keep in mind, however, that unless you need that additional cooling space, you may want to opt for the cheaper version. Here's why. (1) Larger coolers cost more and require more energy to run. (2) It will take longer to chill the interior contents if you have lots of unused "air space".
5. Energy-Saving Portable Cooler
The Dometic CFX 75DZW Fridge Freezer can run off of AC, DC and solar power. Plus, the high performance compressor reaches –7 °F (–22 °C) without using a lot of minimal energy.
Note: You can even charge small electronic devices through the cooler itself!
Go on long trips or go off grid without worrying about your cooer draining your car battery. In fact, Dometic built in a 3-stage Dynamic Battery Protection System. In other words, it automatically shuts off your cooler to prevent your car battery from going dead.

6. Portable Fridge/Freezer has a Heavy Duty Design
Need a rugged car cooler that can hold up during your outdoor adventures (ie, off-roading)? Dometic has you covered with stainless steel hinges, reinforced corners and tough, durable construction. (Also, check out their heavy-duty slide mount below.)
Dometic CFX 75DZW Review:

Dometic Portable Refrigerator on Sale Here (Plus, with Free Shipping!)

CFX Portable Fridge Freezer Includes:
Dometic CFX CoolFreeze Features & Operation:
The video below explains more of the Dometic CFX 75DZW features and how to operate the unit. For example, instructions for how to configure the cooler lids. Plus, you can see the bottom mountain points.
In addition, it shows a quick demonstration of how the wifi app works and how to adjust the temperature from your wireless device.
Dometic CFX 75DZW Specs:
Dimensions: 34.9″ Long x 19.5″ Wide x 18.6″ Tall
Weight: 31 lbs
Interior Capacity: 70 Liters (or 113 cans)
Lights: 2 Energy Efficient Interior LED Lights
Refrigeration Technology: Compressor
Input Voltage (AC) 100-240 V – (DC) 12/24 V
Rated Input Current (AC) 0.93 A – (DC) 7.9 A
Power (AC) 70 W – (DC) 70 W
Frequency 50/60 Hz
Average Energy Consumption at AC: 0.29 kWh/24h
Energy Consumption ([email protected]/32°C): 1.309 kWh/24h
Model #: CFX75DZW
Manufacturer: Dometic Sales: 800-366-3842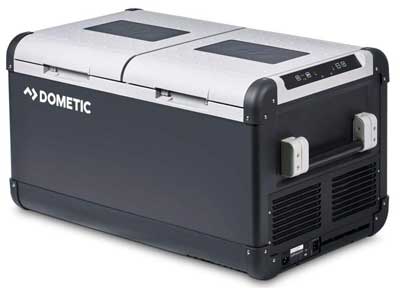 **Also available in Canada: Dometic CFX 75DZW Canada
You can see the length, width and height dimensions for the cooler below: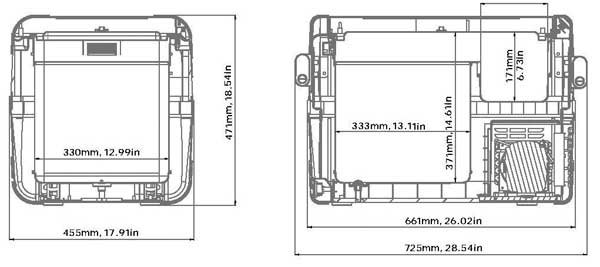 Note: By the way, you can flip the doors on top of the cooler to open in either direction. Therefore, if you have limitations as far as where you can mount your cooler in your vehicle, this cooler offer some versatility.
Dometic CFX 75DZW Slide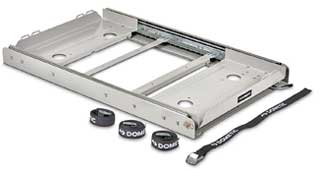 If you want a slide mount for your Dometic cooler, you can get it here. These sliding brackets make it much easier to access your cooler if you build it into a cabinet, under a seat or a bed.
This heavy-duty slide mount can hold up to 220 lbs and is specifically designed by Dometic to fit this particular fridge-freezer. If your vehicle has limited space, this slide can really help.
Money-Saving Tips for the Dometic CFX 75DZW: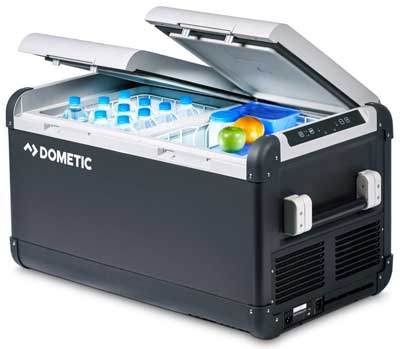 First, the advanced compressor system uses minimal energy while still providing optimal cooling performance.
Second, higher-end (and better quality) electric coolers typically last longer. Therefore, you get more use and don't need to replace them as frequently.
Third, according to the manufacturer, you can operate portable fridge freezers at a higher temperature than your home refrigerator. Therefore, it costs less to operate the device. A few degrees difference shows to be adequate.
Fourth, as I mentioned above, you can cut down on operating costs (and sales price) by getting the 75DZW vs the 95DZW.
Finally, you can save $150 simply by purchasing the unit on Amazon compared to Dometic's own website.