Do you want a powerful and dependable portable fridge-freezer that you can use in your RV or van for long excursions? The Costway Travel Refrigerator Freezer gives you 2 separate compartments for chilling and freezing, yet it doesn't take up a ton of space.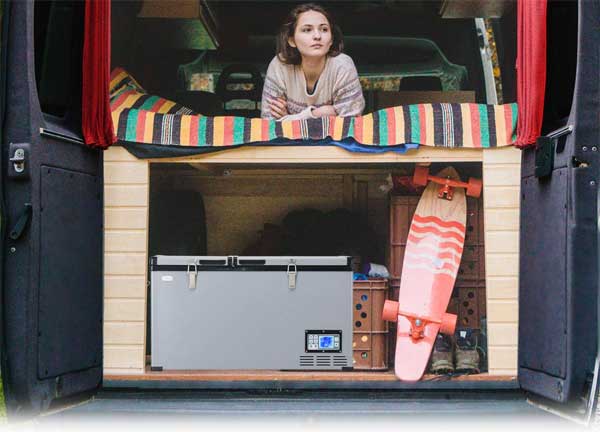 What Do I Think About the Costway Portable Fridge-Freezer?
First of all, I like this Costway model because it can hold a significant amount of drinks and food. At the same time, you can easily slide it out of the way, underneath a bed frame in the back of a van conversion.
Second, the cooler also features interior lighting. Therefore, you can see everything clearly at night or in the dark. You don't need to grab a flashlight or turn on an overhead light and wake everyone up.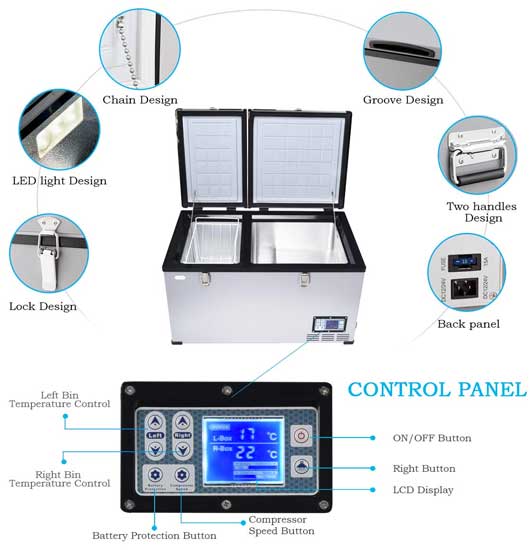 Save Money on a Travel Fridge/Freezer While Still Enjoying a Portable Unit:
Third, this portable appliance provides a good value for frequent road travelers. In other words, you get the convenience of both a refrigerator and a freezer without having to buy an expensive built-in model.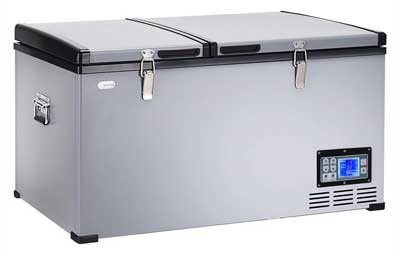 Not to mention, you can move it around or take it out and use it at home, in an office, at a job site etc..
(The package comes with multiple power cords and adapters. Therefore, you can plug the unit into a standard wall outlet or a 12V outlet in your vehicle).
The built-in side handles make it easier to carry, and the rugged exterior gives this cooler long-lasting durability. And take it from me, once you have used a portable fridge/freezer, you will get used to the convenience of it. And, you'll not want to go without one. =)
Car Cooler Provides a Perfect Solution for Full-Time RV'ers:
Note: By the way, the noise level of this portable appliance measures less than 45 decibels. When compared to other industrial noise levels, 45 db measures close to a bird call or the noise level in a library.

So, if you live out of your van or are a full-time RV'er, noise level is a factor you probably want to consider. Quiet is really nice!
This Costway unit also has an energy efficient feature. Although it does provide "MAX Mode" for fast cooling when you need it, you can alternatively use "MIN Mode" for energy-saving status.
The cooler has a convenient LCD display where you can easily adjust the temperature internally. And you don't have to open the cooler doors to do this.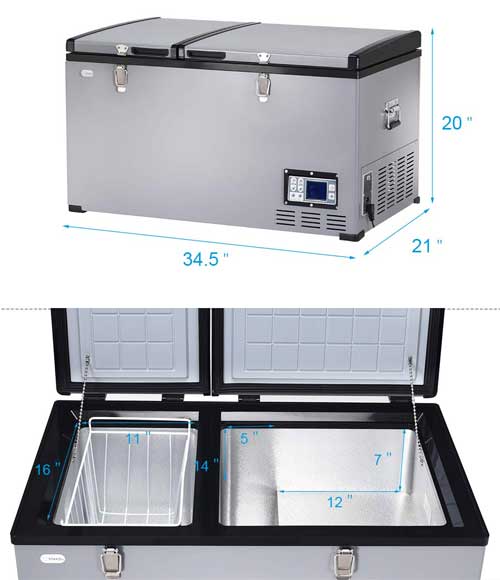 Note: Specs below are for the 84-quart cooler size. In addition, you can also get this cooler in a smaller 44 quart size as well as a larger 105 quart or 121 quart size. However, not all sizes feature 2 separate compartments.
Specs for the Costway Travel Refrigerator Freezer:
Includes: Cooler, DC Power Cord & AC Power Adapter & Manual
Dimensions: 34.5″ Long x 20″ Tall x 21″ Wide
Weight: 64 lbs
Interior Capacity: 80 Liters / 84 Quarts
Lights: Energy Efficient Interior LED Light
Temperature Range: -4°F to 50°F
Refrigeration Technology: High Efficiency Compressor
Refrigerant: R134a 95±0.5g
Voltage: 12V/24V(DC), 110-240V(AC)
Power 85 Watts
Noise:≤ 45 dB
Material: SPCC Steel
Color: Black + Gray
Model #: 23825-CYPE
Manufacturer: Costway, Phone: (909) 483-1200