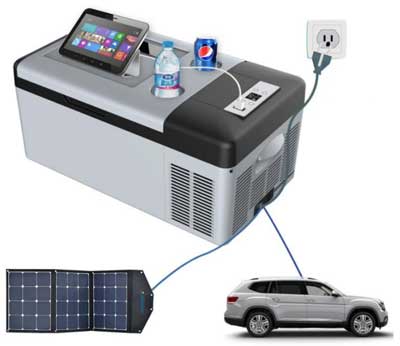 Do you want a car cooler that you can use to both chill and freeze? How about one that can run off a solar panel?
Well, the Acopower Portable Compressor Fridge Freezer can do it all. Not to mention, it also has USB ports to charge your phone or tablet!
In fact, the Acopower may have one of the most versatile compact coolers that I've seen. I mean, you can charge it virtually anywhere, and you can chill or freeze a variety of different foods/drinks without even needing ice.
3 Ways to Power Up Your Portable Fridge/Freezer:
For instance, you can plug the Acopower into the DC port in your car or boat while camping or boating. Alternatively, you can use it in your office, home or job site and plug it into a regular wall outlet.

The solar panel comes in handy too, particularly if you don't want to run down your vehicle's battery or aren't near your car.
Note: The manufacturer recommends using a solar panel with 100 watts or greater. For easy portability, many people like folding solar panels because they're easier to pack and transport.

The AllPowers 100W Solar Charger/Panel has a convenient slim design that folds down into a small carry bag. Plus, it features a high efficiency solar cell to produce more power in just a 5 lb panel.
Limitations of the Acopower Car Cooler:
Even thoug I like the Acopower cooler, you can't chill and freeze contents at the same time because this unit has only 1 compartment. If you want a cooler that can chill and freeze and contains 2 separate compartments, you'll need to invest in a larger unit.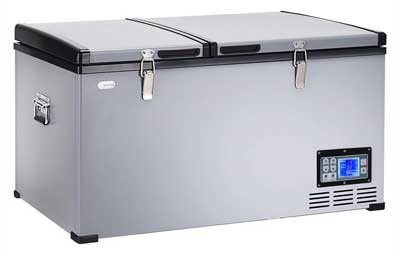 For example, the Costway Travel Refrigerator Freezer offers more capacity with 2 areas that can run simultaneously at different temperatures.
However, it costs more and takes up more space. There's really no getting around that.
The Acopower Portable Fridge Freezer is not a large car cooler. In fact, most refrigerator-freezer models provide a much larger capacity.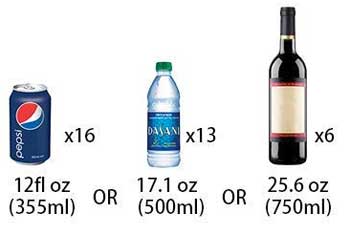 Therefore, I would only really recommend this model for people who have limited space in which to carry the cooler. For instance, why carry around a 3-foot by 2-foot electric cooler when you can carry one almost half that size?
The smaller version can save you hundreds of dollars while not taking up a ton of space in your vehicle. Plus, it can cool faster and operate using less energy. (Not to mention, the smaller dimensions make it lighter and easier to carry.)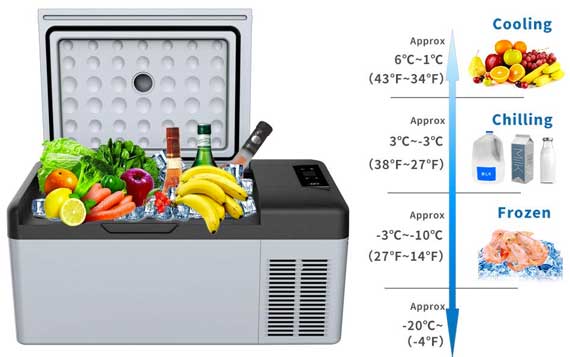 Note: In fact, you might find that having 2 smaller coolers works better for you than having 1 giant ice box. (You could actually do this for about the same price.)

And, with the Acopower's versatility, you can use one as a fridge and one as a freezer. Just saying, this option could be more useful for pool parties, tailgaters, barbecues and more…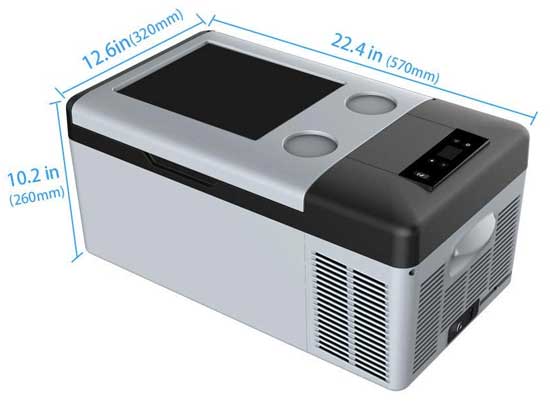 Specs for the Portable Compressor Fridge Freezer:
Includes: Cooler, DC Power Cord & AC Power Adapter & Manual
Dimensions: 24.4″ Long x 10.2″ Tall x 12.6″ Wide
Weight: 22 lbs
Vibration-Resistant Design
Interior Capacity: 15 Liters / 15 Quarts
Cooling Capacity -4°F (~10°C)
Fluoride-Free Insulation
Refrigeration Technology: High Efficiency Compressor
Refrigerant: 32g
Voltage: 12V/24V(DC), 110-240V(AC)
Power 45 Watts
USB Output: +5VDC /2.1A
Includes Digital Control Panel with Temperature Settings
Model #: P15
Manufacturer: Acopower, Phone: 626-575-7722