Would you like to take your fridge and freezer on your next camping or road trip? The Costway portable car refrigerator acts like a compact freezer and cooler, plus it uses minimal energy.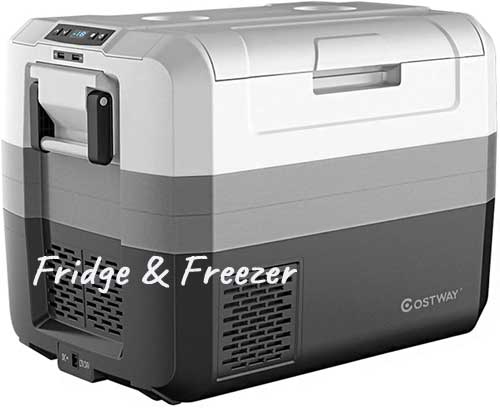 In fact, it comes with 2 separate compartments that you can use independently to freeze and cool. Plus, this dual-zone model comes in 4 different sizes. So, you can get a portable fridge that fits all of your food and drinks.
4 Advanced Features on the Costway Car Cooler:
In addition, this upgraded model has several high-tech features that come in handy when you're traveling. Use it as a compact semi truck mini fridge or for camping trips too.
1. Travel Fridge Cools Fast & Saves Energy:
First of all, it offers both a fast cooling mode AND an energy saving mode. Therefore, you can chill drinks quickly when you need to, yet this refrigerator freezer also can save you money on energy costs.
In addition to making this portable fridge efficient, Costway added several air outlets to dispel excess heat. Furthermore, the device includes battery protection to protect your car battery.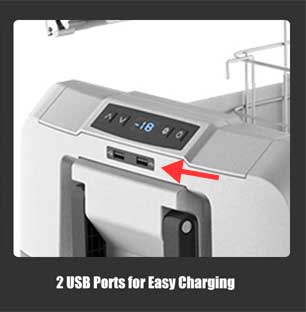 2. Digital Control Panel & USB Ports:
Second, the unit features a digital operating panel on the exterior wall. As a result, you can control the cooler temperature without having to open the lid.
The operating panel also contains 2 USB ports for charging additional devices. Use them for wireless speakers, portable fans, camping lights, phones, cameras and more.
3. Interior Cooler Light + 2-Way Lid:
Third, the cooler comes with an interior LED light that turns on automatically when you life the lid. So you don't need to worry about finding your flashlight first if you need to access the grab a snack or drink at night.
And speaking of the lid, you can open it from 2 different sides. This gives you a lot more versatility as far as how you set up your cooler.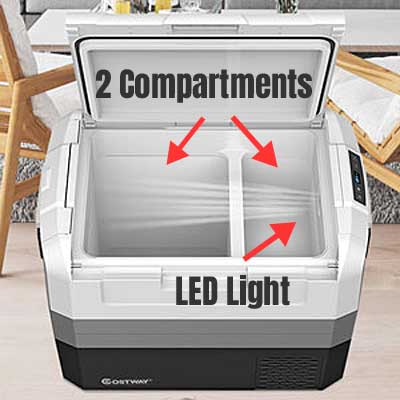 4. Portable Fridge/Freezer Runs Quietly:
Fourth, the Costway cooler operates quietly, at less than 45 decibels. To give you an idea of how loud that is, the average library ranks at a 40 decibels noise level.
In addition, you can even select the "Mute" option on the Costway portable fridge for even less noise.
Note: With all of these upgraded features, you might expect this dual-zone large capacity car cooler to cost upwards of $1,000. However, if you know anything about the Costway brand, you already know that they make durable, quality products at an affordable price. For example, the larger models only cost about $500-$600.
What Comes with the Costway Travel Fridge-Freezer?
The cooler comes with both DC and AC adapters, so you can power it from your vehicle or from home. Therefore, you can use it for backyard parties, a mini fridge, at your office or job sites as well.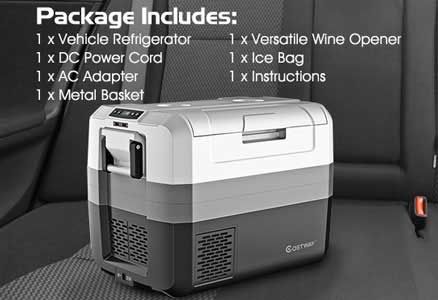 In addition, this car fridge comes with a removable interior food basket. This helps you organize different food items, making everything easier to find. Plus, it can separate more delicate items (like sandwiches) from heavy bottles or jars.
Specs for the Costway Portable Car Refrigerator:
4 Size Options: 37, 48, 58 or 70 Quart
Dimensions (for 58 Quart): 26.5″ Long x 18″ Wide x 19.5″ Tall
Capacity: 84 Cans (12 ounce)
Weight: 44.5 lbs
Material: ABS, Metal
Color: White/Grey/Black
Voltage: 12v/24v(DC), 100-240v(AC)
Temperature Range: -14.8°F to 50°F
Cooling Type: Compressor
Noise Level: <=45 Decibels
Indoor/Outdoor Use
Includes AC & DC Adapters, Ice Bag, Instruction Manual & Wine Bottle Opener
Model #: EP24448US
Manufacturer: Costway
For Sale: Where to Buy the Car Cooler