Need a temporary car cooler to keep food cold for a few hours – like on the way home from the grocery store? Look no further! I think this bag is a great deal, and here's why…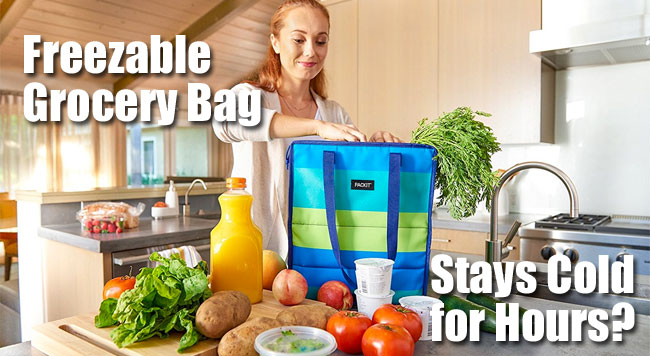 Packit makes a reusable grocery bag with freezable gel built right into
the sides and base of the bag. And it zips shut to lock in the cold!
How Does the Freezable Grocery Bag Work?
Freezable gel packs are sewn into the bottom of the bag. Simply fold the grocery bag flat, put it into the freezer overnight, and it is ready to chill items for up to 6 hours.
You can reuse the Packit bag, so just repeat the process each time you want to use it. What you might not expect, however, is that this grocery bag will last many years. In other words, plan on getting your money's worth out of it.
Note: Since the freezable gel packs are sewn into the bag itself, this gives you more space inside the bag to carry items. Using separate blue ice blocks would take up valuable storage space. Not to mention, they would not efficiently cool because they aren't located on the exterior areas of the bag.
What? The Freezable Grocery Bag is Not Just for Groceries?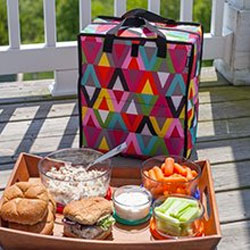 Don't limit yourself to using the Packit bag only when you visit the supermarket.
It also works well for picnics, farmers markets, sporting events, potluck dinners, soccer games, beach trips, baby bottles and more. Who knew?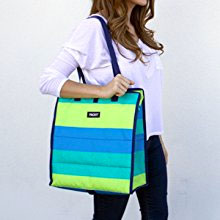 In addition, some colors (Paradise Breeze and Fresh Stripe) feature long, sturdy carrying handles that make this bag easier to carry.
In fact, you can even carry the bag over your shoulder, the straps are so long.
Actually, this "shoulder bag" is much more comfortable to carry than a traditional ice chest or hard cooler. If you don't have to keep food and drinks cool for a long time, the Packit frozen grocery bag makes a convenient alternative.
How to Clean Your Packit Bag
Obviously, you don't want to throw your bag into the washing machine. Most people simply wipe down the surface with a wet cloth when they are finished. Some will occasionally use water with a small amount of bleach on the interior to give it a deeper cleaning.
Tip:Make sure your grocery bag is completely dry before freezing it.
Melissa Kieling, CEO and Co-Founder of Packit, explains how the freezing system works in the "freeze-and-go" bag:
Get it Here
Packit Freezable Grocery Bag Specs:
Dimensions: 14.5″ Tall x 13″ Wide x 8″ Deep
Weight: 4 ounces
Material: Food Safe, Non-Toxic Poly Canvas (no PVC, BPA, phthalates or formaldehyde)
6 Color Options: Black, Grey Stripe, Fresh Stripe, Geometric, Paradise Breeze and Viva
About Packit Control Systems