Koolatron makes a soft-sided electric cooler as an alternative to the traditional hard plastic car coolers. Personally, I like the hard-sided coolers better because I think they work more effectively at keeping the interior contents cooler for longer.
That said, this soft cooler does have a convenient shoulder strap as well as exterior pocket for additional storage. It also costs less than many other larger hard coolers.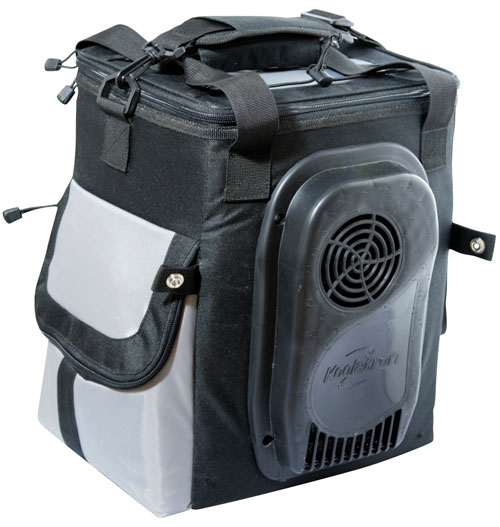 Why I Like this Soft-Sided Car Cooler: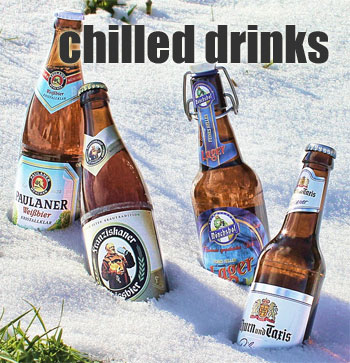 Similar to all other electric car coolers, I recommend chilling your food and drinks before putting it into the device.
This enables the cooler to use less energy when plugged in. Plus, the contents will stay cooler longer.
Keep in mind that you don't have to have the Koolatron plugged in for it to work. I often use my soft cooler with blue ice blocks, and the drinks and food stay plenty cold without the need for electricity.
Koolatron Soft-Sided Electric Cooler Specs:
Capacity: 14 Quarts (or 20 twelve-ounce cans)
Cooling: Cools to 16.5°C (30°F) below ambient temperature
Weight: 4 lbs
Dimensions: 13.5″ x 11″ x 10″
Material: Nylon
Color: Dark Grey
Model # D13
Includes adapter to plug into car's 12V outlet
Soft Car Cooler vs Soft Cooler Backpack…
Many people who like the concept of a soft cooler vs a hard cooler also like being also to carry it as a backpack. Although cooler backpacks can't typically plug into your car's electrical outlet, some are better insulated and they cost less.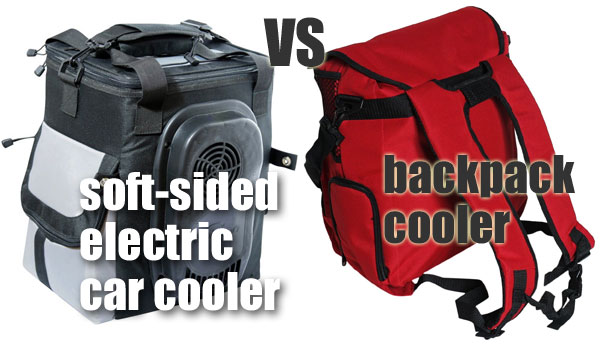 For example, the AO Cooler Backpack features double insulation and costs about $20 less than the Koolatron soft cooler. It can carry 18 twelve-ounce cans plus ice. In addition, it has a shoulder strap, backpack straps and several exterior pockets for dry storage.
The Koolatron works better from longer road trips because you can use the 12V power of your vehicle to continuously chill your food and drinks. On the other hand, if you usually just go for day trips, you may not need the 12-volt power.
Just something to think about…