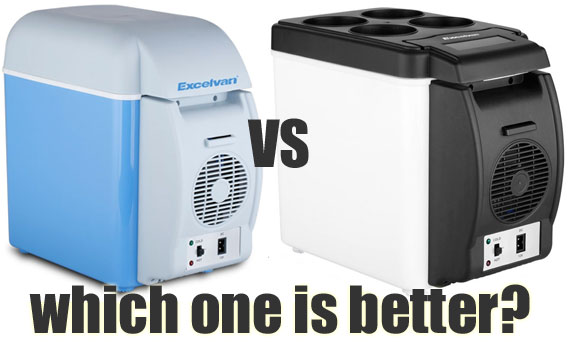 Excelvan makes a couple of different car coolers for travel, commuting and road trips. Both models are 12V thermoelectric coolers and warmers. In addition, they are similar size, shape, design and power controls. They come in two sizes, but they have a few other features as well. I compare them below.
But first, which features are the same between the BT16 and the BT17?
They both include shoulder straps for carrying.
Both models have 4 anti-slip foot pads at the base of the unit.
The BT16 and BT17 have semiconductor refrigeration systems that produce minimal noise and have a long life span.
Each cooler features an eco-friendly, energy saving design. Thus, you save money.
Excelvan BT16 Car Refrigerator: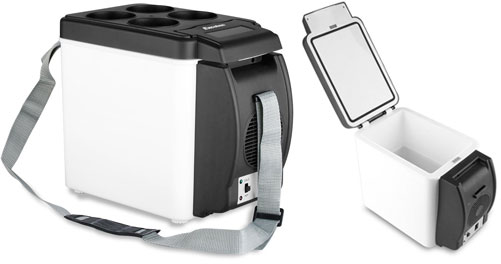 BT16 Car Cooler
The Excelvan BT16 is the smaller of the two models at 6 liters. It is designed to fit in the back seat of your car. That said, it includes a convenient adjustable shoulder strap should you decide to carry it outside of your vehicle.
Unlike the BT17, this model has 4 cup holders built in to the top of the cooler. Not surprisingly, this feature is especially handy if you use your fridge/warmer to hold extra drinks while you are commuting.
BT16 Specs:
Capacity: 6 Liters
Dimensions: 9.7″ x 9.3″ x 6.3″
Weight: 3.1 lbs
Cools to 59-77 degrees below ambient temperature
Heats to 149 degrees
BT16 Excelvan Car Refrigerator: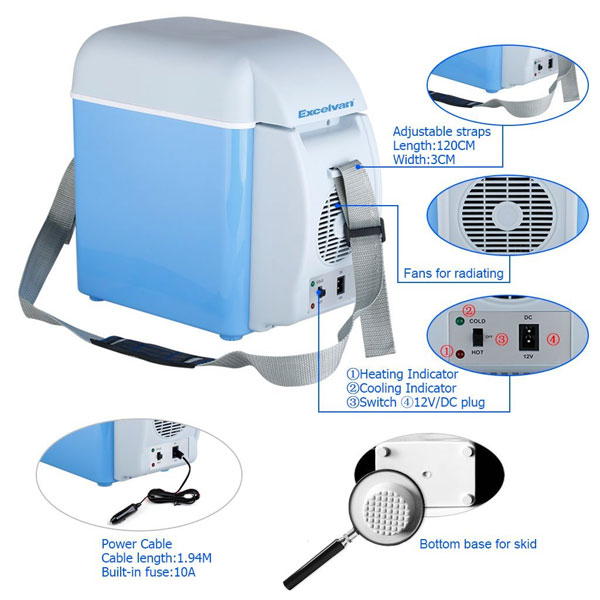 BT17 Car Cooler
As you can see by the photo above, the BT17 does not have the 4 cup holders on top. Even though you don't get this handy feature, you do get more space. In other words, the trade-off is that the cooler can provide more interior cooling/warming space for food and drinks.
BT17 Specs:
Capacity: 7.5 Liters
Dimensions: 13.5″ x 12.7″ x 8″
Weight: 3.3 lbs
Cools to 59-77 degrees below ambient temperature
Heats to 141 degrees
Among other things, Excelvan is in the business of making car travel more comfortable. They make an entire line of automotive accessories and electronics, including in-car air purifiers, bluetooth car kits, chargers and more. In general, I prefer buying products from companies that specialize in a particular area like this. I take it as a sign of knowledge and experience.