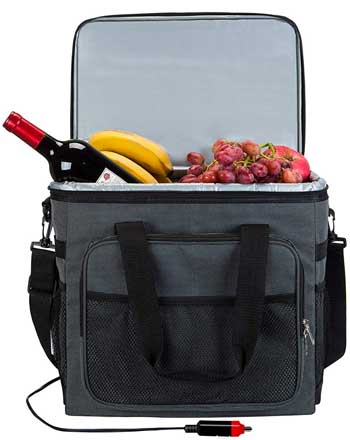 Do you want a compact, lightweight cooler that has soft sides – but you can still plug into your vehicle?
This electric car cooler bag has several advantages over comparable hard plastic coolers that many people overlook.
4 Big Advantages to Using a Soft-Sided Car Cooler:
1. First of all, the moldable sides allow you to slide this carrier behind seat backs or in between car seats where hard coolers can't often fit. In other words, you don't have to worry so much about whether your car cooler will fit.
2. Second, the soft sides can collapse when the bag is empty. Therefore, you don't have an empty cooler taking up space in your trunk when you're not using it.
3. Third, this electric cooler bag features several zippered and mesh pockets on the outside walls. As a result, you can carry more stuff like bottle openers, utensils, sunglasses, keys, a phone etc..
Plus, exterior compartments keep smaller items easier to access and find. Talk about easy organization! Not to mention, electronics and paper products can stay dry too. =)
4. Fourth, you can comfortably carry it by hand or over the shoulder, depending on the weight of the contents. (Try doing that with a boxy cooler, right?) Plus, the power cord stores conveniently out of sight when not in use.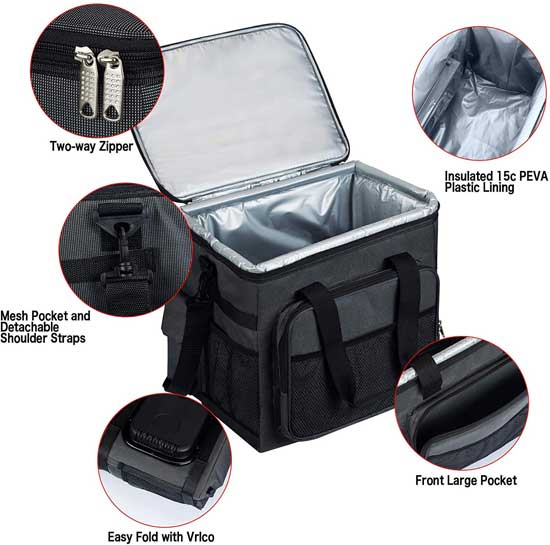 Thermoelectric Car Coolers VS Cooler Bags:
Although a soft-sided cooler does not offer the heavy-duty insulation of a portable fridge-freezer, it works great for shorter road trips. For example, people like using it for picnics, office lunches, tailgaters and short camping trips.
Note: I suggest using blue ice packs with the car cooler bag and putting food/drinks in the bag that are already cool. The insulated space holds a 60°F temperature without any ice, but can extend the cooling capacity of blue ice.
This does not warm food, per se. However, the insulated sides can keep food warm without plugging in electric power.
Therefore, you can use it to take food to parties, sports events, etc.. In fact, if you use them often enough, it might make sense to have 2 bags for hot food and cold drinks…
Electric Car Cooler Bag Specs:
Dimensions: 15″ Wide x 13.4″ Tall x 11″ Deep
Weight: 4.75 lbs
Interior Volume: 25 Liters (8 Gallons, or 34 12-ounce cans)
Weight Capacity: 50 lbs
Exterior Fabric: 600 D Polyester
Waterproof Interior
Insulation: 15mm Polyethylene
Color: Grey
Power: 40-50 Watts
12V Adapter Included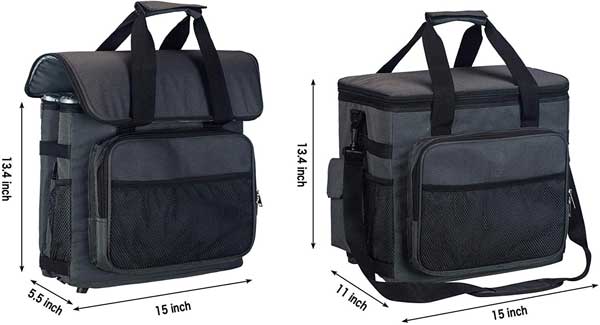 By the way, to turn on the car cooler bag, you just plug it in.