Dometic makes a wide variety of portable refrigerator/freezers, their CF-050AC110 Model being the most popular. It has an interior capacity of a small dorm fridge, 1.7 cubic feet.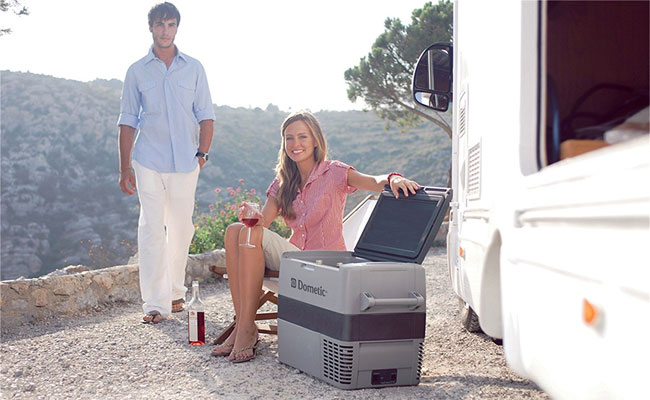 Essentially, this portable cooler acts like a mini fridge that you can take with you in your car, truck or RV. Plus, you can use it as a freezer as well. That said, you can't refrigerate and freeze at the same time – choose one or the other.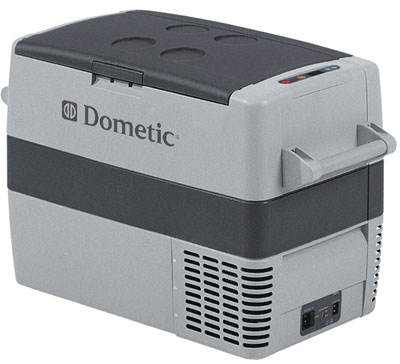 How is this Dometic Portable Fridge/Freezer Different from Other Coolers?
1. It is More Powerful, Yet Still Energy Efficient
First of all, this cooler is one of Dometic's compressor models. Consequently, it runs very efficiently while still offering high performance. You get the benefits of both worlds.
In addition, it has a 3-stage battery monitor. It is considered a "smart charger" because it provides maximum charge benefit. In fact, you can even run it using a solar panel!
2. Your Dometic Will Last You Many Years
Secondly, it features a high impact weather-resistant polypropylene cabinet. It is built to last. Therefore, if you plan on using your portable fridge or freezer often, you can count on this one operating reliably and sustaining more accidental mishaps than other coolers.
3. Turbo Chill Function Gets Your Fridge Cool Fast
The Dometics include a "Turbo Chill" function, which lets you lower the temperature in your cooler fast. It does this by running the compressor at max capacity until it reaches the temperature you want.
In the video below, Mark Polk from RV Education 101 explains how this process works. Plus. he goes over all of the other features of the Dometic portable refrigerator freezer. Note: model shown is the larger 80-liter size.
Note: By the way, this model comes in 7 different sizes, ranging from 10.5 liters to 106 liters.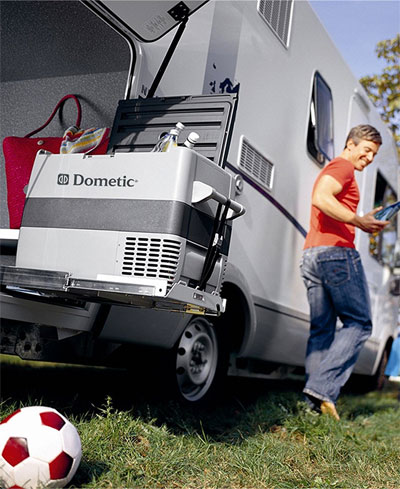 The smallest models are designed for personal needs, while the largest are for professional and major-league use. The mid-range versions offer more versatility and can be used for lots of different activities.
Can You Save Money?
Dometic refrigerators/freezers cost significantly more money than some other portable coolers. However, their efficient use of energy combined with their well-designed insulation make them a good investment.
That said, you will only get your money's worth if you use them often. Dometic actually makes this easy, since you can power the cooler using 12/24V DV or 110V AC. Therefore, you can take it camping, commutes to the office, road trips, soccer games, beach trips, back yard BBQs, special events and more…
About the Company: Dometic makes both powered and non-powered portable coolers.
Their powered coolers include thermoelectric, absorption and compressor options. On the other hand, their non-powered coolers have very effective insulation and can keep food fresh for several days at a time.
Dometic Portable Refrigerator Freezer Specs:
Size Capacity: 1.7 Cubic Feet (49 Liters, or 68 12-ounce cans)
Power: 12/24V DV or 110V AC
Dimensions: 25″ long x 19″ tall x 14″ wide
Weight: 40 lbs
Color: Grey
Model #: CF-050AC110