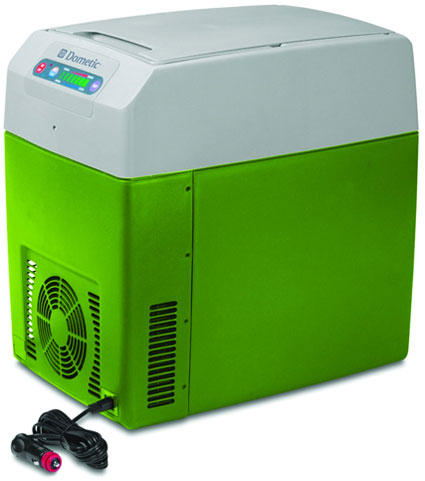 Dometic makes a convenient compact cooler (plus warmer) in a variety of different sizes. The smaller sizes fit easily in small spaces, and you can even carry the smallest model over your shoulder with the included strap.
However, the cost is significantly higher than other electric coolers of comparable size. (See the comparison chart).
This cooler has high reviews, and the company makes some great products. In fact, I really like their line of portable refrigerator-freezers.
How the Dometic Cooler Compares in Price:
That said, this particular unit may not be worth the additional cost. That is, unless you can find it on sale. For example, the Dometic 21-quart cooler/warmer currently costs about $173.
Compare this to the highly rated 18-quart Koolatron P-20 priced at about $100. The Koolatron also cools and warms and comes with similar features.
The Dometic portable electric cooler/warmer does come in 4 different sizes:
7 Quart, approximately $130
15 Quart, approximately $150
21 Quart, approximately $173
37 Quart, approximately $270
Smaller Coolers VS Larger Coolers
As you'd expect, the smaller versions have the benefits of heating and cooling faster. Plus, they can fit more easily behind car seats or as a center console.
On the other hand, the larger models can hold more items. In addition, they offer more value in space.
No matter which model you choose, you don't have to hassle with ice. You simply plug the unit into your car, boat or RV 12-volt power outlet and the let the device do its job.
Dometic Cooler + Warmer Specs:
Dimensions: 18″ L x 12.5″ wide x 15.5″ high
Weight: Approximately 26 lbs
Capacity: 20 Liters / 21 Quarts
Cools to 40 degrees F below ambient temperature
Warms items to 150 degrees F
Power: Thermoelectric, 12 V CD / 120 V AC
Color: Green and Grey
Model #: TC-21US