Want a soft-sided cooler that you can also plug into your car to keep cool? Look no further, because I've found the perfect cooler tote bag!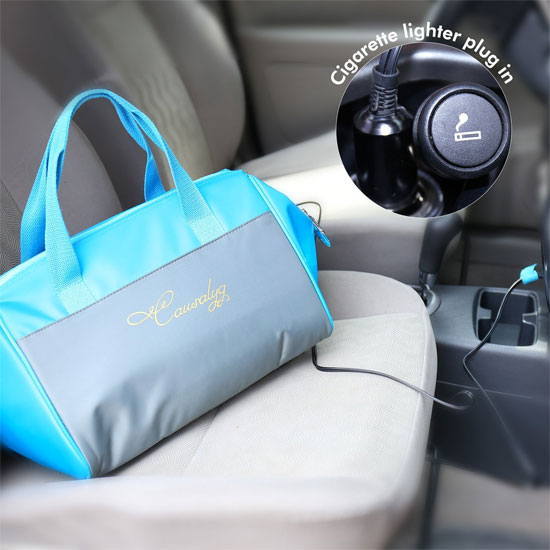 The Causalyg may look like your average handbag, but don't be deceived. This bag provides multiple functions and is more powerful than it looks.
1. Well-Insulated + Electric Powered
First of all, this insulated soft cooler also plugs into your vehicle's cigarette/12V outlet. The added thermoelectric power gives it extra cooling ability while you are driving on road trips, commutes, etc..
For example, the insulated liner in the bag keeps the interior contents cool or warm for about 4 hours. (No need for ice either!) By adding extra thermoelectric power, you can easily extend the cooling/heating time by many hours.
2. It Can Heat as Well As Cool
Secondly, this cooler tote bag can heat interior items as well. This added versatility makes this bag extra-functional for pot luck dinners, picnics and more…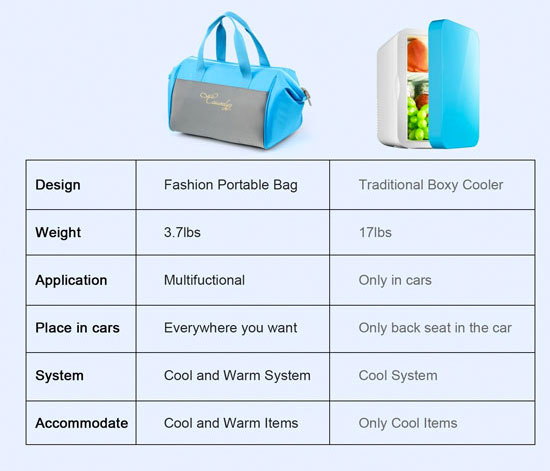 The electric power works very efficiently. Plus, the specially-designed zipper locks in the heat to make the bag even more cost-effective.
3. High Capacity Without Being a Space Hog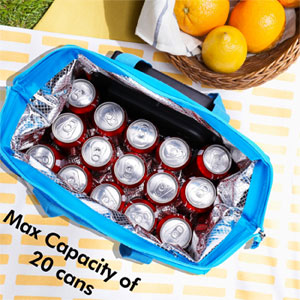 Third, this 18-liter carrier can hold up to 20 soda/beer cans. That's a good-sized capacity for a bag that doesn't take up a lot of space and is also comfortable to carry.
Due to the fact that the sides of this cooler are flexible, you can carry tall wine bottles or larger containers as well as smaller items.
On the other hand, you can easily keep a case of beer cold for hours simply by sticking it in the bag!
4. Extra Long Power Cord Makes it More Versatile
Fourth, the power cord measure 74″ (over 6 feet!). You can easily plug the unit into the front of your car while you keep the cooler in the back. I find this feature ultra convenient.
However, having such a fashionable-looking tote, you may decide to keep the cooler in the front seat while suggesting your guests sit in back. Plus, you'll have all the food and drinks you want within arm's reach. =)
5. Lightweight, Well-Designed Bag Adds Convenience
Fifth, cooler tote bags weigh less than traditional hard-sided coolers of the same capacity. Therefore, this bag is easier and more convenient to carry. This factor alone makes people want to use it more often,… as you'd expect.
In addition, the anti-skid design on the bottom of the cooler helps it stay in place while you are driving. This comes in really handy when you have the bag in the back of your car, on the seat o f a moving boat, etc..
12V Cooler Tote Bag Specs:
Dimensions: 13.6″ long x 8″ wide x 9.25″ tall
Capacity: 20 Soda Cans
Weight: 3 1/2 lbs
Power: 50 W
Voltage: 12 Volts
Power Consumption: 1.2kw.h/24h
Outer Material: Nylon+ 230PVC
Inner Material: EPE + Aluminum Foil Lining (great insulation power)
Handle Material: Nylon
Cooling Temperature: Chills down to 48°F
Warming Temperature: Warms up to 120-140°F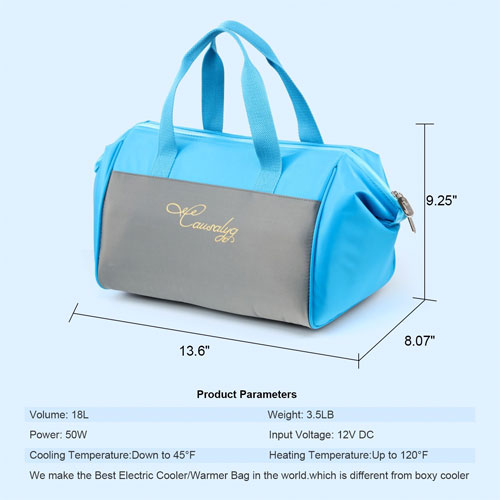 Note: Food grade material, BPA-Free, Leak-Proof, Water Resistant